CF & Yoga Retreat (May 23rd - June 4th)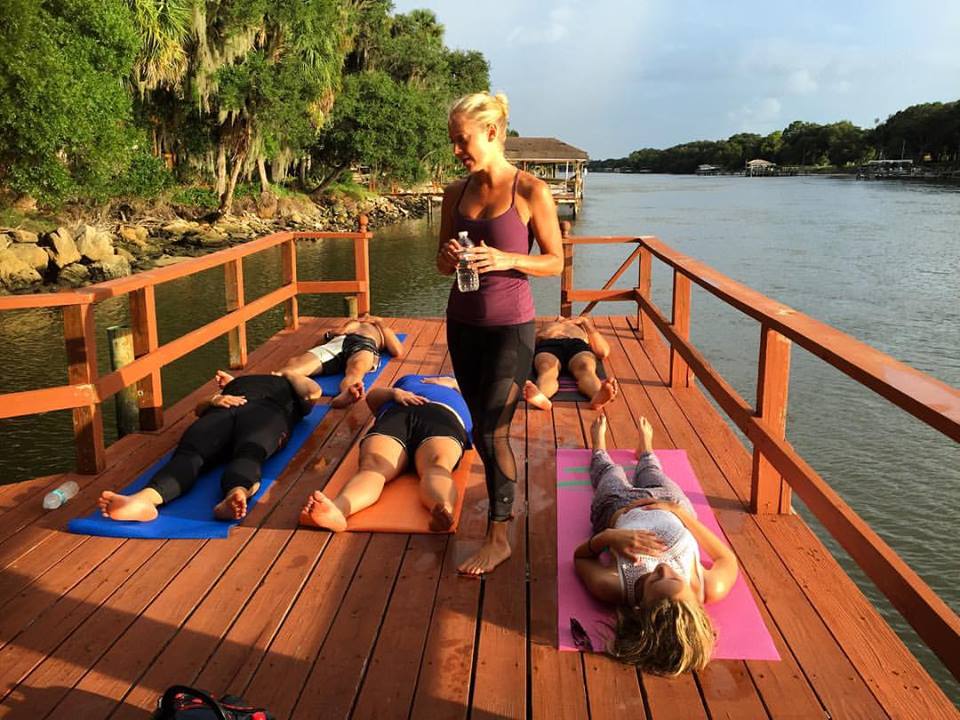 We are excited to announce the 4th annual Crossfit and Yoga Retreats in SUNNY FLORIDA! This retreat will include fitness and the exploration of the authentic Florida, guided by Melissa, a native Floridian. We will offer one 7 day retreat and one 12 day retreat. Dates are as follows:

Dates: May 23rd - May 30th (7 day) /OR May 23rd - June 4th (12 day), 2019



CrossFit and Yoga Retreat:
Catch your breath after daily WOD's in the original homeland of Crossfit. Wind down with evening sunset Yoga after a day in the Florida sun. Together, CrossFit and Yoga are the perfect pair; complementing each other in their differences while maintaining a similar purpose. You will experience traditional Florida through daily excursions ranging from taking surf lessons, visiting local CrossFit boxes, beach hopping, swimming in the Florida Springs, exploring the Oldest European city in the USA "St. Augustine" and more.

About The Instructor's:
Melissa Andersen is the founder of Passport to the Heart Retreat, and holds yoga retreats and events worldwide. She is a passionate American yoga instructor and motivational coach with over 13 years of experience. Melissa's global retreats contain a diverse array of yoga including Hatha yoga, vinyasa flow, yin yoga and more, with breath exercises and guided meditation. She is also a licensed NLP (Neuro-Linguistics-Programming) practitioner and motivational mental coach. Melissa retreats have a strategic combination of yoga, meditation and coaching to create mental balance, harmony and happiness.

Rune Volshøj is a Danish CrossFit instructor with 3 years coaching experience, and around 5 years CrossFit training experience. He has a Bachelors Degree in outdoor-sports science and has been working in the fitness business for over 10 years. Rune bachelor degree specializes in outdoor activities and its mental benefits. Runes main focus is guiding the client to move with there own body weight, and give them tools to be healthy while maintaining happiness. In Runes opinion, its all about having fun with your health.
Accommodation:
Our Florida house is located in a breathing taking area, directly on the Matanzas river, also known as the Intracoastal waterway. The Hammock is a small town on a barrier island, East of Palm Coast. It is one mile from the Atlantic Ocean and is a tropical Utopia. Truly a secret gem in Florida. Our home is the essence of traditional Florida with a relaxing and serene atmosphere. We have two docks that are great for sunbathing or fishing. The house comes with an ocean kayak and a paddleboard if you like water sports. Dolphins, manatees and sailboats pass on a daily basis. It is three bedrooms and 2 baths, but one room is made into bunk beds so it sleeps four.

Surrounding Area:
The ocean is only a mile away. Two minutes in the car, 5-minute bike or 15 minute walk. The closest beach is relatively private, adjacent a Jack Nicholas progressional golf course. You can view the beach and golf course at www.hammockbeach.com. There is a grocery store one block away for convenience. There are cozy restaurants including a juice bar and a wine bar within walking distance. Many cute towns are located near by, such as Saint Augustine, Flagler and Daytona beach. Also, Disney World and all of the theme parks are only an 1.5 hour drive away.

What's Not Included:
Flights, Travel/Trip Insurance, Lunch, Dinner and Snacks, Extra excursions, Sunscreen, Beach Towel, Shampoo/Conditioner/Hygiene Products

Price:
EARLY BIRD SPECIAL:
7 Day Retreat before January 1, 2019:

Shared Bunk Room (Up to 4 guests):
9.000 KR / Per Person ($1,100 USD / Per Person)

Double Room with Single Beds Shared Bathroom:
11.000 KR / Per Person ($1,350 USD / Per Person)

King Room with Private Bathroom:
12.500 KR / Per Person ($1,500 USD / Per Person)

PRICE AFTER DECEMBER 1, 2018:
RISES 2.000 KR ($250 USD)

12 Day Retreat:
Shared Bunk Room (Up to 4 guests)
13.000 KR / Per Person ($1,580 USD / Per Person)

Double Room with Single Beds Shared:
17.000 KR / Per Person ($2,000 USD / Per Person)

King Room with Private Bathroom Shared:
18.000 KR / Per Person ( $2,200 USD / Per Person)

PRICE AFTER January 1, 2019:
RISES 2.00O KR
Daily Crossfit class
4 Daily Yoga class
Daily excursions
Waterfront accommodations
Transportation including airport pickup
Daily Breakfast
1 Surf Lesson
Use of kayaks
Dock for sunbathing or fishing
Use of bikes
Retreat t-shirt