Yoga Safari (September 1 - 8, 2018)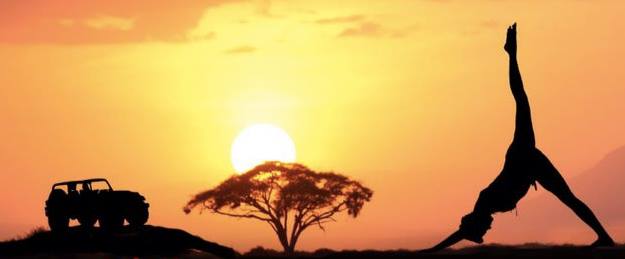 This retreat provides an adventurous mix of travel, yoga and SAFARI! This retreat provides a chance to practise yoga in some of the most beautiful places in Southern Africa. You'll have a true African wilderness experience, exploring Southern Africa's world renowned Kruger National Park, while also enjoying the magic, and sense of connection and calm that comes with a yoga retreat, daily yoga and meditation practice.

Combining the natural beauty of the African bush with the mental and physical benefits of yoga, the focus will be on instilling a deep sense of relaxation and tranquility.






Yoga & Wellness:

We will practice yoga primarily outdoors in the beautiful nature of South Africa amongst the animals.
Melissa Andersen is a licensed Yoga Instructor with 13 years of experience. The classes will be for all levels. The morning classes will focus on a Vinyasa mix, exploring many types of practices such as Ashtanga, Hatha, Bikram and Vinyasa. We will ease into the evening with restorative, yin, breath work and guided meditations. We will focus on on the depth of yoga, re-centering our minds and bodies by escaping the chaos of society with a goal to take the peace of yoga home with us in the mind, body and soul.

Game Reserve & Accommodation:

Situated in Marloth Park, just a few kilometers from world renowned Kruger National Park, this villa has an astonishing position in the bush. Zebras, warthogs, kudus and mangooses are often in the garden, aroud the braii area or drinking in the splash pool. Each room has a king sized bed, air-conditioning, mosquito nets, high quality linen and more to make your stay as comfortable as possible. The accommodation has a fully equipped kitchen, TV with DStv , Air conditioning, swimming pool and braii area. Enjoy the wildlife and nature of Marloth Park or go for a safari drive in Kruger Park (15mn) to see the Big Five. A true bush veldt experience, and so very close to nature. Something for every nature lover. From the animals visiting you whilst having your yoga, or morning coffee, the song and view of spectacular birdlife spoiling you under the African skies to the beautiful stars in unspoilt nature at night.

Drive, or walk to the river to view the big 5, or simply have a sun downer next to the crocodile river drinking in the peaceful setting only to be found at Marloth Conservatory, an unique experience not to be missed. Nearby attractions and activities include game viewing, bird watching, guided walks, game drives, fishing and hiking.

What's Included:

1-2 Daily 1.5 Hour Yoga Classes w/ Guided Meditation (optional), Accommodation in Marloth Park Game Reserve, Daily Breakfast, Lunch and Dinner (Vegetarian Options), Round-Trip Airport Transfer From Kruger Aiport (MQP), Round-trip Internal Flight From Johannesburg (JNP) to Kruger Airport (MQP) w/ Booking Assistance, Open Pool and Access to Marloth Park, 1 Safari Game Drive to Kruger National Park, 1 Safari Sunset/Night drive to Kruger National Park, 1 Guided Wildlife Discover Walk, Sundown at Crocodile River, Matsam Cultural Village Tour, Unlimited Bottled Water, Tea and Coffee,

What's Not Included:

External Flights to Johannesburg, Extra Nights, Extra Excursions, Spa Treatments

Accomodation Options & Price:

EARLY BIRD SPECIAL THROUGH JANUARY 1, 2018

Bring a Friend- Shared Queen Ensuite:
$2,500 USD / Per Person (20.000 KR / Per Person)
(BOOKING AFTER JANUARY 1ST PRICE $3,100/26.000KR)

Private King Room Ensuit (1 guest per room):
$3,300 USD / Per Person (27.000 KR / Per Person)
(BOOKING AFTER JANUARY 1ST PRICE $3,700/29.000KR)

A non-refundable deposit of $1,000 USD or 8.000 KR is due upon booking. The remainder is due July 1, 2018.


7 Nights Stay
Daily Yoga & Meditation Classes
Breakfast, Lunch and Dinner
Roud-trip Internal Flight From Johannesburg (JNP) to Kruger Aiport (MQP)
Round-Trip Airport Transfer From Kruger Airport (MQP)
1 Safari Game Drive to Kruger Park
1 Safari Sunset/Night drive to Kruger Park
1 Guided Wildlife Discovery Walk
Matsam Cultural Village Tour
Open Pool and Access to Marloth Park
Sundown at Crocodile River
Unlimited Bottled Water, Tea and Coffee